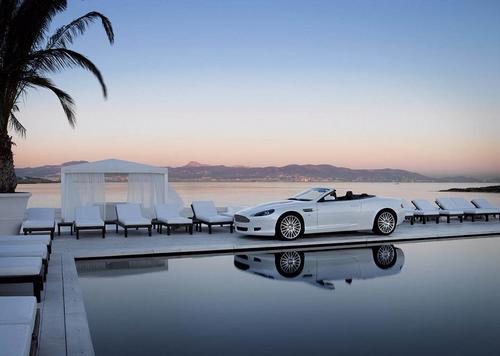 2009 Aston Martin DB9 Volante
Aston Martin introduced a revised version of the company's critically acclaimed Aston Martin DB9 at the 2008 Geneva Motor Show, which includes significant enhancements to standard specification. These changes include a revised version of Aston Martin's 6.0 litre V12 engine to deliver improved power and torque. Peak power of 470bhp (350kW) – increased by 20bhp (30Nm) – is now reached at 6,000rpm, resulting in a power to weight ratio of 267bhp per tonne (199kW/tonne) – an increase of 11bhp per tonne over the existing Aston Martin DB9.
Peak torque of 600Nm is delivered at 5,000rpm, providing even more accessible power for the driver, as well a greater performance feel overall. Accordingly, top speed is now 190mph (306km/h) and the benchmark 0-60mph time improves by 0.3 seconds for the Touchtronic transmission – which benefits from a new valve box and integrated transmission controls to achieve quicker gear shifts – to 4.6 seconds and by 0.1 seconds to 4.6 seconds for the manual gearbox.
The latest Aston Martin DB9 also incorporates a series of chassis developments for both the Coupe and Aston Martin DB9 Volante derivates. Bilstein dampers are introduced in addition to revised upper suspension arms and retuned suspension bushes to deliver improved ride quality; aiding greater refinement in the Aston Martin DB9 Volante and an enhanced sporting feel in the Coupe. The Aston Martin DB9 Volante also benefits from revisions to the front shear panel which increases torsional rigidity by 10%, further improving refinement.
The Aston Martin DB9 manages to combine all facets of style, quality and usability of a traditional Aston Martin without relying on retrospective detail or design. Accordingly, styling changes to the revised Aston Martin DB9 are subtle, reflecting the car's timeless design and understated elegance.
Exterior styling changes include the introduction of a new standard 19" 10-spoke alloy wheel, new door mirrors and a revised anodised aluminium five-bar grille. In the cabin changes include a new centre console constructed from die cast zinc with a painted iridium silver finish and the introduction of a new Emotion Control Unit (ECU) – first seen on the Aston Martin DBS in 2007. The ECU – constructed from glass, polished stainless steel and polycarbonate – replaces the key used previously for the Aston Martin DB9.