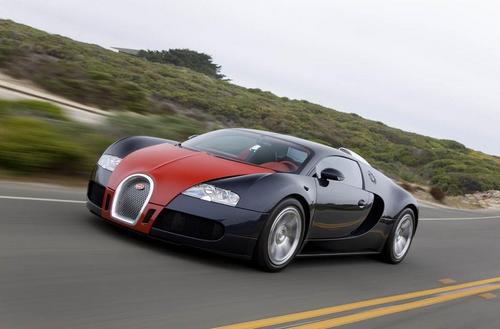 Bugatti Veyron Fbg par Hermes
Following in the footsteps of its previous Pur Sang model, Bugatti has added another 'special edition' variant of the Veyron to its lineup and this time 'round it's called on French design house Hermes to lend a hand. The result is a supercar with super-exquisite fashion street-cred, but no new performance upgrades.
The latest model is called the 'Bugatti Veyron Fbg par Hermes' and it represents the culmination of a partnership that stretches back almost 80 years. Its odd name 'Fbg par Hermes' refers to the historic Hermes headquarters on the Rue du Faubourg Saint-Honore (the Fbg being short for faubourg), which used to create custom interiors for many of Ettore Bugatti's creations during the 1920s.
Leading the work for the Fbg par Hermes was head designer Gabriele Pezzini, whose team has created a traditional two-tone carriage work that celebrates 1924 Bugatti Type 35. Key features are the unique color of the hood, which extends to the interior of the cockpit and re-emerges at the level of the rear wing, eight-spoke polished aluminum wheels with central butterfly wheel locks branded with the letter H and air vents around the edges mimicking Hermes saddle-stitching, and a new grille and fuel-filler cap.
The inner surfaces of the car, including the brushed aluminum dash, have been fitted with calfskin leather, the door handles replaced with Hermes-luggage style units, and a new leather case is installed in the trunk.
The Veyron's mechanicals have been left untouched, which means the 16.4 engine still produces 1,001hp and 1,250Nm of torque and carries the car to a top speed of 407km/h.