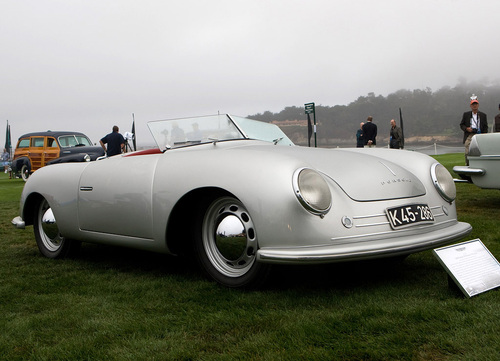 Porsche 356/1 Roadster
The two Porsches were released in 1947 and returned to their Austrian factory. Ferry resumed his design work, while his father Ferdinand served as an advisor. The biggest project on hand was the 'Typ 360' Grand Prix car commissioned by Cisitalia's Piero Dusio. The mid-engined machine was a clear development of the successful Auto Union racers of the 1930s. Also following the mid-engine formula was a much lower profile, but in the end much more important 'Volkswagen' sports car study. Drafted up in July of 1947, it was assigned the design number 356.
While the Type 356 featured many mechanicals originally developed by Porsche for the Volkswagen, it used a brand new steel spaceframe chassis. The front and rear suspension as well as the drivetrain were pure Volkswagen. With one vital difference, the rear bits were mounted in the chassis with the engine pointing forward, now located mid-ships. The air-cooled flat four was reworked and fitted with high compression heads, boosting power from 25 to 40 bhp. The steering box and the cable operated drum brakes were also pinched from the Volkswagen pile.
The rolling chassis was completed in the spring of 1948. After being extensively tested, it was fitted with an elegant aluminum body penned by Erwin Komenda. It was only at this time that the Porsches decided to market the new sports car under their own name, rather than trying to sell the design to Volkswagen. The completed machine sported the 'Porsche' name prominently on the nose. Amazingly the font used back in 1948 is still used to this day, virtually unaltered. And so the very first Porsche was born. It is commonly referred to as the Porsche 356/1 or Porsche #1.
The first public appearance of the Porsche was at the Swiss Grand Prix at Berne in July of 1948. It was handed to several journalists for a test on the high speed track. They all loved the nimble and light 356. The next outing was a local race in Austria, where the silver roadster took a first in class. Yes the first Porsche took a victory in its first race! In the mean time Ferry Porsche was well under way with the development of economically feasible production of the 356. The light and rigid spaceframe combined with the mid-engined layout may have been ideal for the track; it was too expensive for mass production.
In spite of using a completely different chassis and engine configuration, Porsche decided to retain the 356 type name for the production car. Known internally as the 356/2, the new Porsche was even more Volkswagen than its predecessor with a platform chassis and a rear mounted engine. Production commenced later that year, the Porsche factory relocated back to Stuttgart and the rest as they say is history. The prototype Porsche was retained by the factory and found its eventual replacement in the mid-engined 550 racing car.