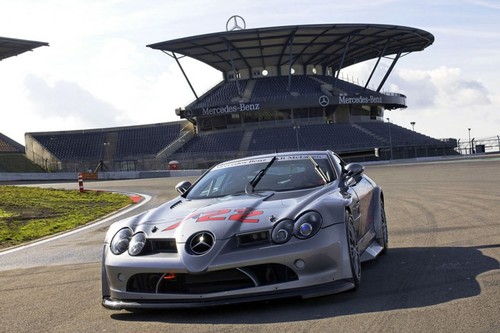 Mercedes McLaren SLR 722 GT takes to the track
The Mercedes McLaren SLR 722 GT was first revealed exactly one year ago and since that time we have seen Mercedes announce the end of its manufacturing partnership with McLaren as well as unveil the new SLR Roadster 722 'S' model.
Back then it wasn't known if the newly established club racing series developed around the SLR 722 GT would exist beyond the first couple of months, but this new video, filmed only a couple of months ago, reveals that the series is alive and kicking.
The SLR 722 GT is a special racing version of the regular SLR 722 supercar that was developed by British motorsports company RML Group for the unique racing series. The cars were designed solely for track use and each is estimated to cost close to $2 million ? not including the added costs of funding an actual race team and maintaining it.
Compared to the production version, the SLR 722 GT has been significantly upgraded with most of the modifications done to the suspension, braking system, aerodynamics, interior and exhaust system. In total, more than 400 components were either replaced or redesigned.
Under the hood lies a supercharged AMG 5.5L V8 that's had its boost pressure wound up to 1.75bar. Other modifications to the powertrain include a high-flow sports filter and exhaust system. The end result is a final output of 671hp (500kW) and 830Nm (612lb-ft) of torque.