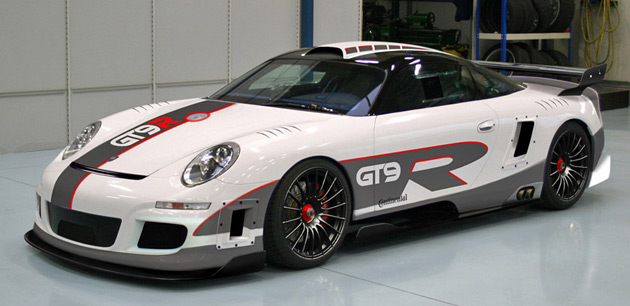 Faster 9ff GT9 'R' in the works
Engineers at 9ff finally reached their goal of building a car capable of toppling the Bugatti Veyron's top speed title by unveiling the 409km/h (254mph) GT9 supercar earlier this year. However, during the car's long gestation, a new speed king arrived on the market in the form of the SSC Ultimate Aero TT, which has reached a top speed of 411km/h (255mph).
Not wanting to settle for second place, those same 9ff engineers are now reportedly working on a more powerful version of the GT9 ? the GT9R. This computer generated rendering of the GT9 sporting a new rear wing, an updated front bumper and splitter, and new wheel well extractors, plus a side mounted exhaust system, is a close representation of what to expect for the GT9R.
Final specs are yet to be released but some initial numbers include a 1120hp (836kW) and 774lb-ft (1,050Nm) output for the standard GT9's twin-turbocharged 4.0L flat-six engine, which incidentally is rated at 987hp (726kW) and 710lb-ft (964Nm) of torque.
Expect production of the GT9R to be even less than the already limited GT9, of which only 20 examples are destined to be built. Pricing will almost certainly exceed the GT9's ?498,000 ($785,677) sticker as well.