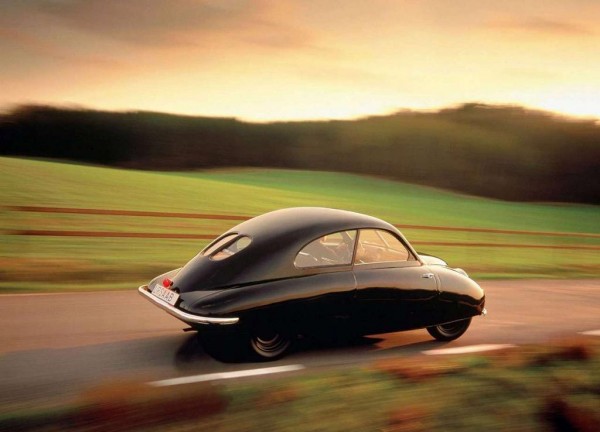 Saab UrSaab
The first Saab automobile was the Saab 92001, the 'Ursaab'.
As the Second World War was drawing to a close, the SAAB company, a manufacturer of warplanes, realised that it needed to enter a different market. An automobile project was envisaged. The final decision to start the automobile project was made in the fall of 1945. Development was started in Linkoping by a 20 person team led by Gunnar Ljungstrom. The immediately-preceding Saab production code was for an aeroplane – the Saab 91 Safir – for this reason, the first car project started as the Saab 92 (92001).
An important requirement was that the car had to have a very low drag coefficient. Aerodynamic tests were part of the very early evaluations. The specification was also for front-wheel drive, secondary safety and winter capability. The body was of novel design, providing damage-resistance in the event of an accident and wide wheel arches allowed for snow accumulation without obstructing the wheels.
By summer 1946 the first prototype body was ready, hand beaten on a wooden jig. It had a borrowed 18 hp (13 kW) two-cylinder two stroke engine, which was placed transversely in the front of the vehicle.
The original 1946 Saab 92001 was driven thousands of miles. Today it is in the Saab museum in Trollhattan, with a cleaned grille and more roadworthy headlights. It is called Ursaab, meaning 'original Saab'.
The 92001 design was improved by Sixten Sason in 1947, resulting in another prototype: the 92002 and later the production Saab 92. The aerofoil shape of 92001 was echoed in later Saab models, up to and including the Saab 96.