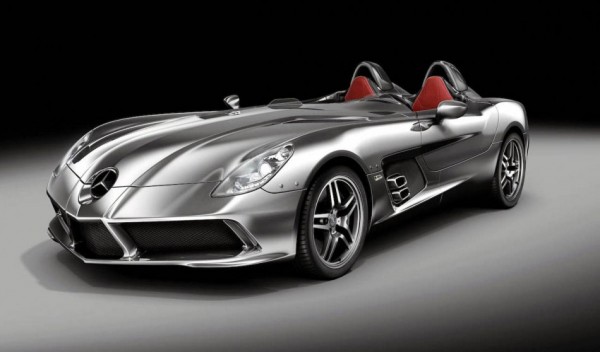 Mercedes-McLaren SLR Stirling Moss revealed
With Mercedes' next generation of super sports cars currently under development by the carmaker's racing arm, HWA, as well as its in-house tuner, AMG, the current manufacturing partnership with McLaren is set to end once production of the SLR supercar concludes next year. To mark the occasion, Mercedes and McLaren will release a highly modified SLR that will be produced in a limited run of just 75 cars.
The latest version is called the SLR Stirling Moss and it differs significantly from the current model on which it's based. The most striking feature is its open-top design, which incorporates a roofless design with no windshield and vertical lifting doors. The design appears similar to the previous C16 Speedster based on the Corvette from Callaway, which was revealed last year. Stirling Moss, incidentally, was a legendary British race car driver who won his first F1 GP in a Mercedes, and was also the driver who won the 1955 Mille Miglia in record time behind the wheel of a 300 SLR.
The driver and passenger will only be protected by a small deflector, but the new design means the car will be able to accelerate from 0-300km/h in just 26 seconds and reach a top speed of 350km/h?and 13km/h faster than the SLR 722 model.
Adding to the performance is a lighter kerb weight, which could be more than 300kg lighter than the standard model. The weight saving will come from increased use of carbon-fiber for the body, new carbon-ceramic brakes and a new exhaust system.
The special edition model will cost exactly ?750,000 (before taxes) and it will make its world debut next month at the Detroit Auto Show, where more information, including availability details, will be released.